WinFlash OBDII Dealer Updates
This is the update to the dealer version of the WinFlash OBDII program that is supplied with the OBDII dealer kits NOT the standard WinFlash OBDII program. To install the update, please uninstall the previous version and then double click on the downloaded file and follow the on-screen instructions..
After installing the updates, run the WinFlash OBDII program. Click on the 'Help' menu and select 'About' from the drop-down list.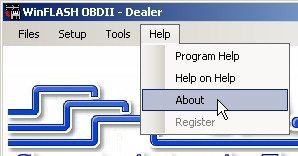 On the 'About' screen, verify that you are now running version 4.45 of the program.
NOTE:
This is an update only. You must have a previously installed version of the WinFlash OBDII program on your PC to use this update.
Version 4.45
Version 4.25
Version 4.24
Version 4.23
Added support for 2018 E92A

Added support for T87

Added E78A and E92A and T87 to test read function
Version 4.22
Version 4.21
Version 4.20
Revised vehicle information screen to include traceability no. and security seed for ECM and TCM. Also added a save function.

Added support for handling 2017 long security keys.
Version 4.00
Please report any problems or bugs to tc@tunercat.com.